Plan Your Stay
Populated by about 400 residents, Thetis is a small island located on the West Coast of British Columbia, separated from Vancouver Island by the Stuart Channel. With its pacific west coast climate, pristine beaches and community atmosphere, Thetis provides a stunning natural setting for Capernwray Harbour. Local amenities include two marinas, a post office, elementary school and several cottage industry businesses.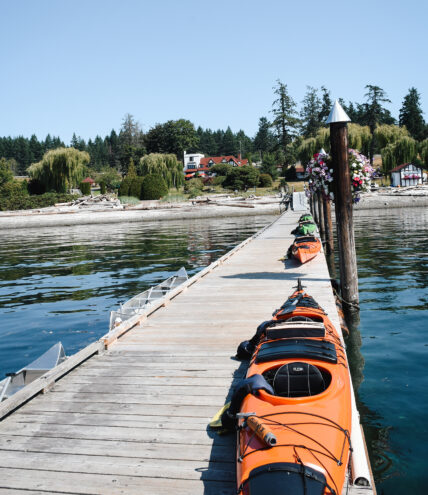 Facilities and Services
The Property
At Capernwray Harbour, we can host up to 140 guests in our comfortable accommodations within 97 picturesque acres of oceanfront, woodlands and meadows. Our meeting rooms can host conferences and retreats of any size in our variety of venues that range from a formal Lecture Hall to a rustic Barn/Gym. Our extensive facilities include a fully equipped watersports/kayak venue, climbing tower, gymnasium, fitness centre, playground, well-groomed forest trails and even a trout pond. Guests can also access laundry facilities, photocopy and fax services, and a small convenience store called The Pump House Snack Shop.
No matter how long their stay is, guests may enjoy dining on the delicious food prepared by our skilled kitchen staff. Our meals are served family-style on tables for six in our on-site dining room.
1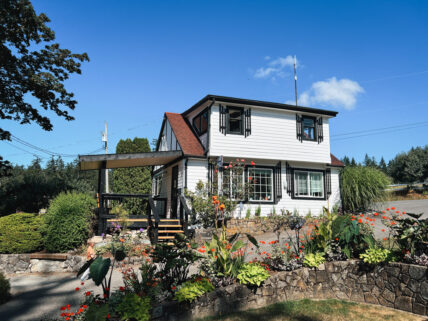 Main Office
As the hub of the property, the Main Office offers services such as printing, sending or receiving faxes, scanning, photocopying and general information during office hours.
2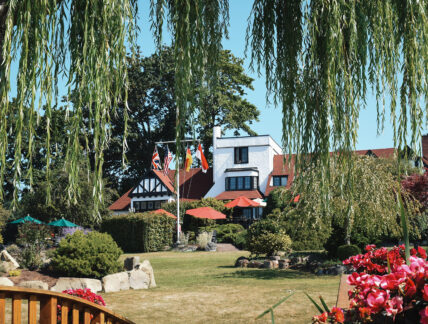 Main Hall
Enjoy family-style meals in one of the two dining rooms in our distinctive Tudor-style Main Hall building. This building contains a few guest suites upstairs, coin operated laundry machines in the basement, an outgoing mail slot, sports equipment closet and public washrooms.
3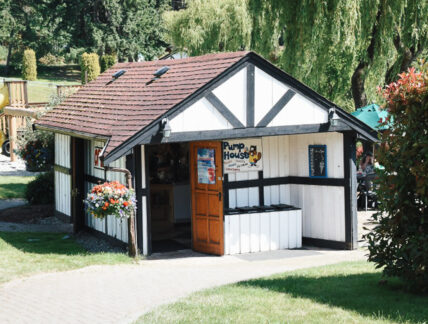 Pump House Area
Purchase a variety of snacks and beverages, books, postcards, souvenirs, water bottles, apparel and miscellaneous toiletries.
4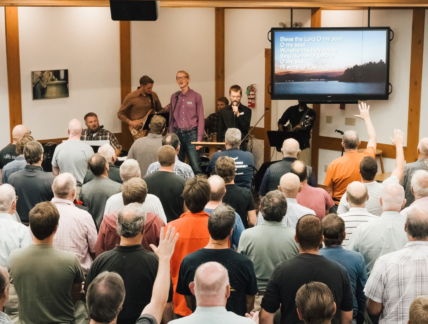 Lecture Hall
The Lecture Hall Classroom is the main meeting space during the Bible School and Conferences. This is a versatile space with overhead lighting, WiFi and audio/visual equipment and is available for groups of any size. The adjoining Lecture Hall Foyer has lounge seating, an ATM and public washrooms.
5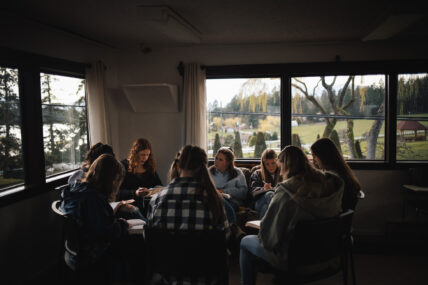 Study Loft
Accessed by exterior stairs on the outside of the Lecture Hall building, this meeting space is used during the Bible School as a quiet place to study and reflect and offers versatility for groups up to 60. This room has access to audio/visual equipment and WiFi.
6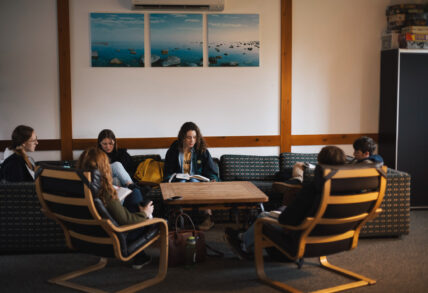 Orchard Room
The Orchard Room is a bright open room that overlooks our orchard. This is a wheelchair accessible, multipurpose room that is often set up with foosball and ping pong tables, an electronic keyboard, as well as couches for hang out times.
7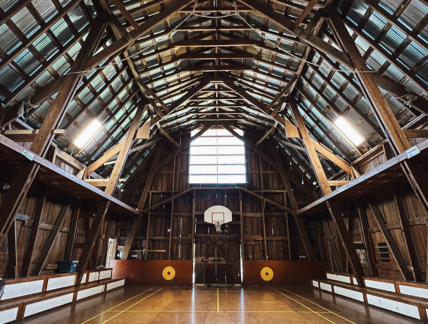 Gym
Play floor hockey, basketball, volleyball, and more fun, indoor recreational activities in our gym, which is in an historic rustic barn!
8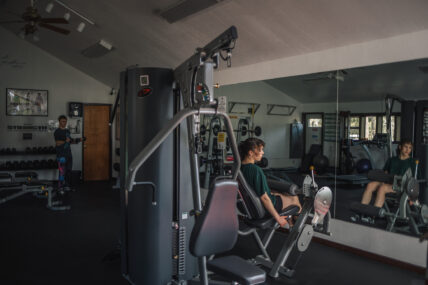 Fitness Centre
Stay strong and healthy by exercising in our fully-equipped fitness centre, located just off the gym. Access is provided through a keycode, given upon request through the office to our guests 18 years and older. Bible School students have access to the fitness centre during scheduled hours.
9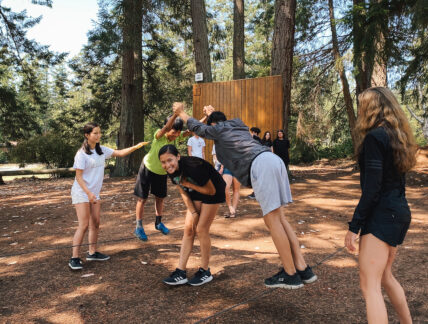 Team Initiatives Course
Develop team building and leadership skills on this ropes course by taking part in 10 problem solving events.
10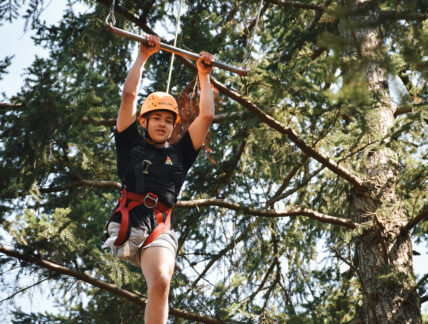 The Screamer
Leap from the top of a 40′ pole to a trapeze 6′ away! Get out of your comfort zone and have fun.
11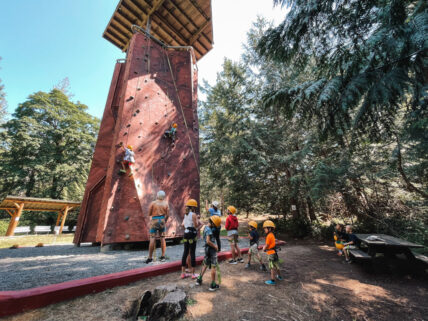 Climbing Tower
This tower is 40′ of excitement and is suitable for all levels of difficulty. Challenge your body, mind and spirit!
12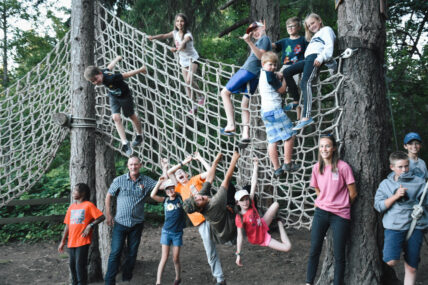 Low Elements Course
On this ropes course, participants build new skills in a safe environment with 17 low risk individual challenges.
13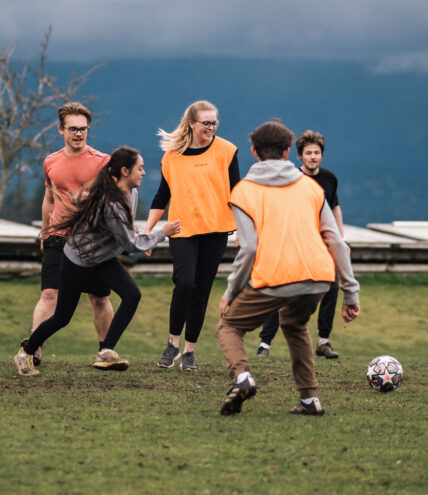 Campfire Pit & Soccer Field
Have an impromptu game or gather with your fellow students and attendees, right by the waterfront.
14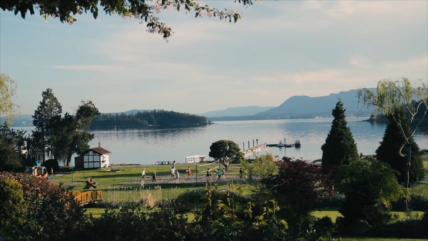 Waterfront Area
Enjoy marine and land activities with our fully-equipped facilities. Beach volleyball, horseshoes, sand and climbing playground, fire pit, kayaking, canoeing, ski boat activities and harbour tours all happen from this part of the property. Have fun outside with your fellow students and guests!
15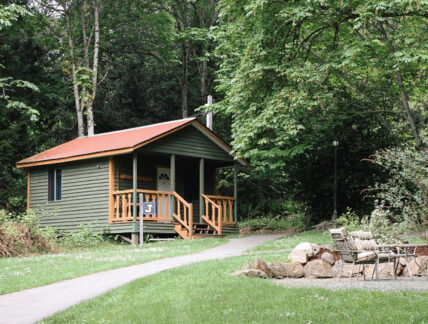 Preedy Hamlet
Fully winterized cottages each sleep four to eight guests and have bunk beds, a water closet, shower room and two sinks. Parking nearby.
16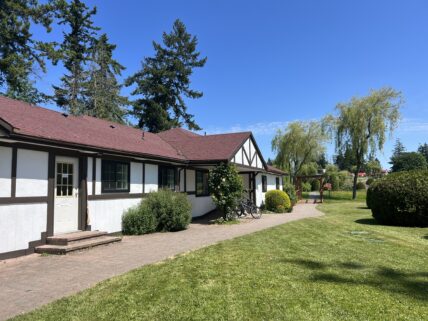 Preedy Lodge
Seven dormitory style rooms each sleep four to six people. Each room in the Lodge has a designated or en-suite bathroom with shower facilities. Parking nearby.
17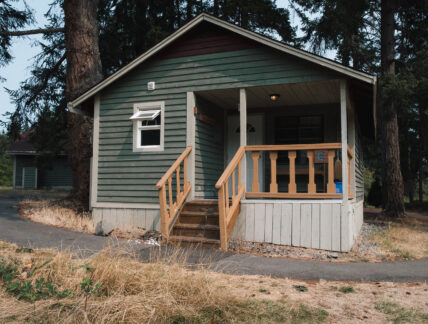 Upper Cottages
Fully winterized cottages each sleep four to eight guests and have bunk beds and an en-suite bathroom with a bonus sink in the main area. Parking nearby.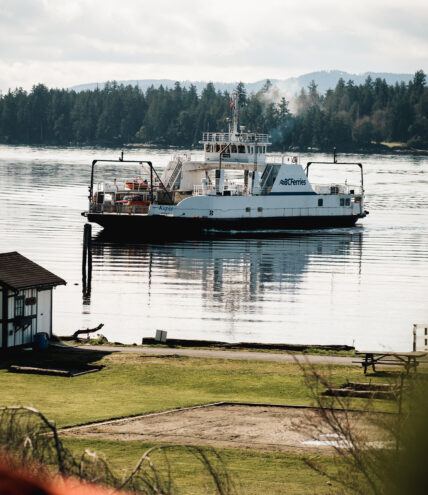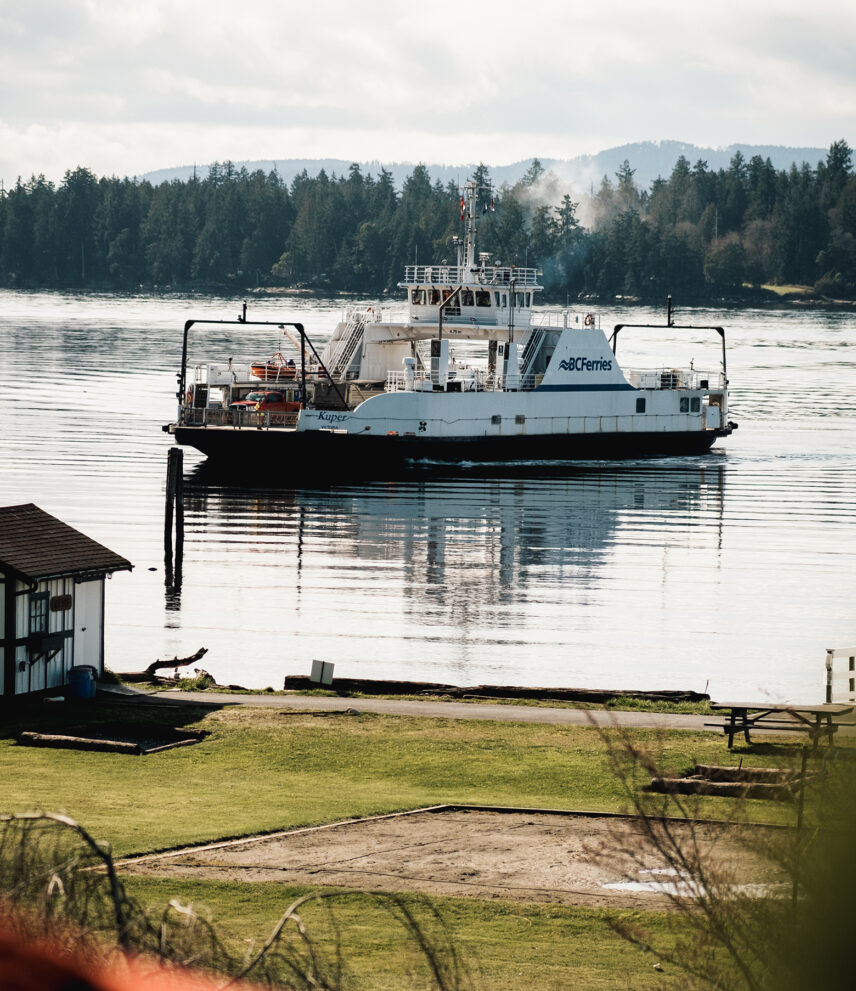 HOW TO GET HERE
By Sea and Air
Capernwray Harbour offers a true island experience, accessible by car / passenger ferry services from Chemainus, or by float plane directly from the Vancouver International Airport.