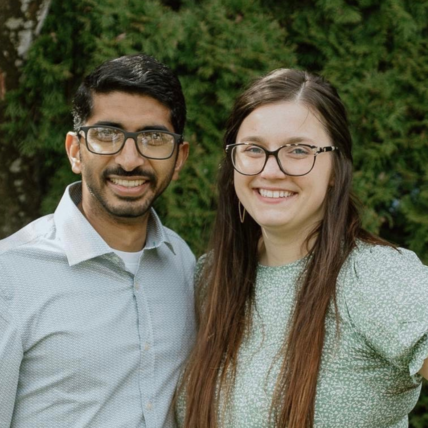 SPEAKERs
Jeffrey & Tessa Thudian
Jeffrey, born in Canada yet raised in India grew up in a Godly family from a heritage of teachers, preachers and evangelists. In his teens, he began his own personal walk with Jesus Christ and from then on, has hungered for the word of God and desired to open it and share the Life of Christ with others. This desire brought Jeffrey back to Canada for Bible School.
Tessa, from a young age, knew God's call to serve in full-time ministry. At 16, her family travelled from Ontario and settled on Vancouver Island where she completed her final years of high school, attended Capernwray Harbour and went on to pioneer (with her dad) the Youth for Christ ministry in Nanaimo BC.
After meeting at Capernwray Harbour while attending two years of Bible School, Jeffrey & Tessa recognized they had a similar call into full-time ministry on their lives. Several years later, they married, joined our Staff Team for five years and began their family. They now serve on Vancouver Island in their local community where Jeffrey is the Associate Pastor of a church fellowship and Tessa's love for youth continues to be part of her everyday life as she teaches, mentors and serves them wholeheartedly. If you know the Thudians, you know that God has gifted them to walk alongside people to bring them into a knowledge and relationship with our Lord Jesus Christ.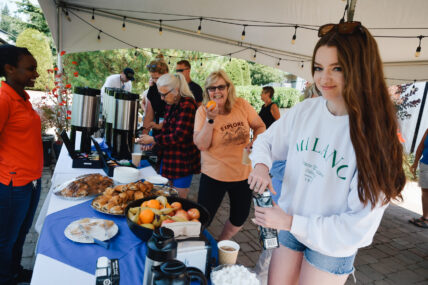 TOPIC
Judges
Jeffrey Thudian
Do you ever feel that our world is in a state of moral decay? It's a common feeling when headlines are filled with prejudice, injustice, violence, and harassment. This grim reality can be disheartening, overwhelming, and sometimes even seems hopeless.
But the truth is, this isn't a new phenomenon. The Book of Judges offers a striking parallel to our own time. Throughout this week, we will explore stories and characters in this book, reflecting the Israelites' recurrent drift away from God, often by doing what seemed right in their own eyes. The stories of Judges display an ongoing cycle of Israel's rebellion, God's discipline, Israel's repentance, and God's rescue. Join us as we discover from the book of Judges the message of hope and salvation brought to us by the ultimate judge – Jesus Christ, our true and powerful Saviour.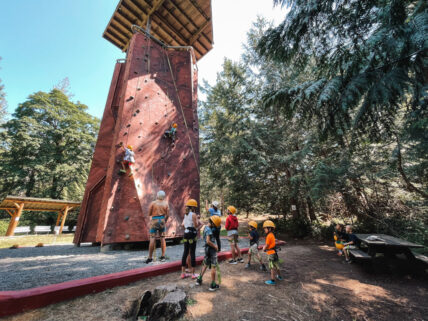 TOPIC
Ruth
Tessa Thudian
The book of Ruth is an encouraging narrative of an ordinary woman used by God to do His extraordinary work. It will lead us through themes of loss and grief, relationship challenges, God in the workplace, and Jesus as Redeemer. As we journey with Ruth and Naomi through their personal sorrows, their daily decisions, and their expectations of God, we will see the kindness and goodness of a Redeemer Who never leaves or forsakes those who choose to follow Him. The book of Ruth communicates an important fact: Amidst a nation of sin, God is intimately acquainted with a people of faith. We will see the sovereignty of God in each area of Ruth's life, highlighting God's plan and purpose for His people, which has not changed since the beginning of time. We'll see the practical ways we can love and serve in the most challenging times.
FEES & DEPOSIT INFORMATION
August 4 – 9, 2024
Fees:

Adult – $650
Teen – $575 (age 13-17)
Child – $365 (age 9-12)
Child – $310 (age 6-8)
Child – $255 (age 3-5)
Infant – $130 (newborn-age 2)
Family max. – $2750 (applied to immediate, dependent family members only)
+5% GST to be applied to conference fees. All fees are in Canadian Dollars.
Deposit:
$50.00 (CAD) per person.
Non-refundable & Non-transferable.
Balance is due upon arrival
HOW TO REGISTER
Online
Registrations open online at 8:30 am PT on Wednesday, January 24, 2024.
Online registrations will be acknowledged as received when submitted. Registrations will be confirmed as accepted once space in the conference is secured and the registration is completely processed. Each online registration requires a $50 (CAD) non-refundable, non-transferable deposit PER PERSON in order to be received and accepted. Only Visa, Mastercard & American Express are accepted.